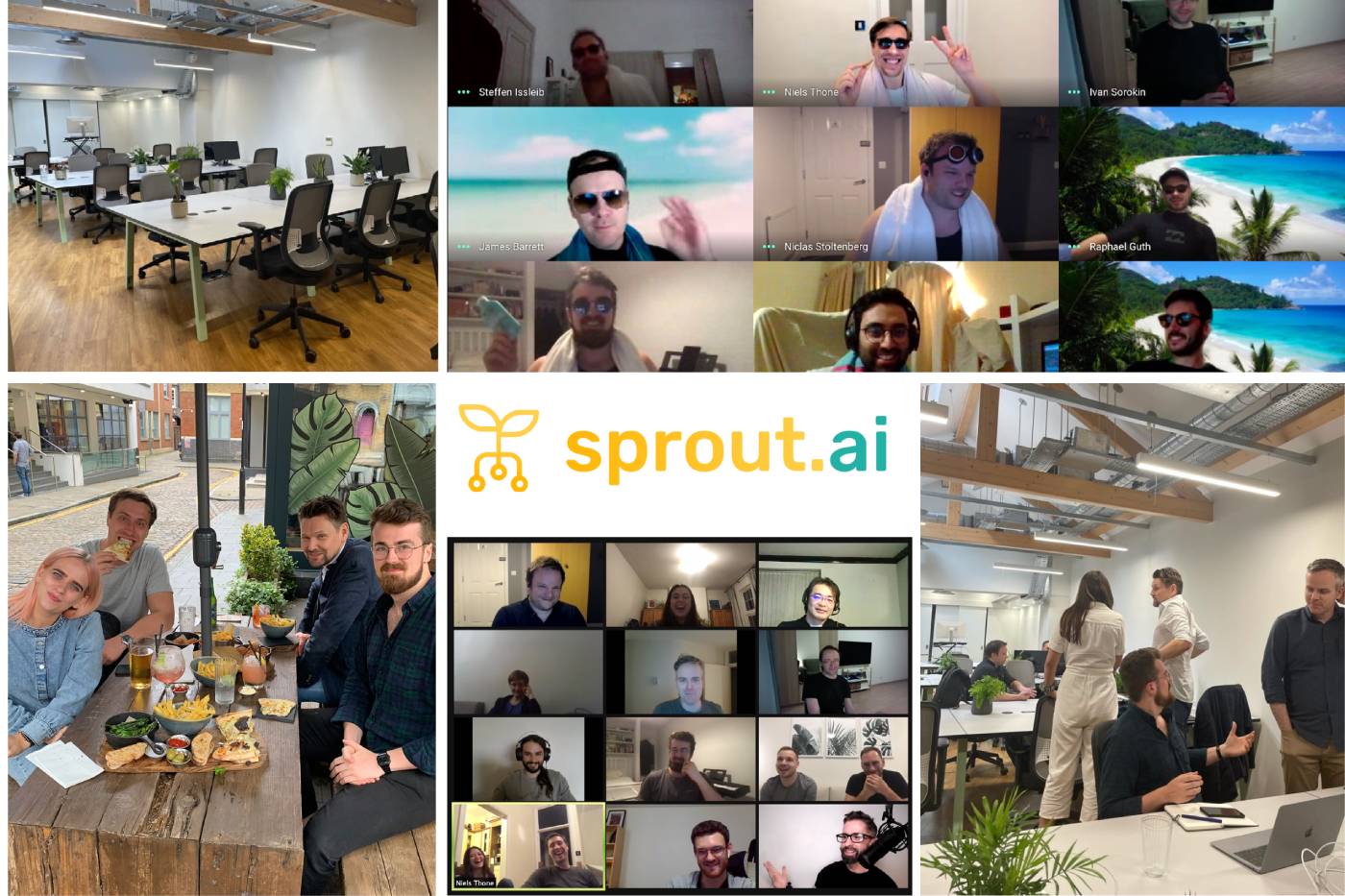 Sprout.ai half-year update
The first half of 2021 has gone by in a flash, in what have been an exciting and successful six months at Sprout.ai. Series A funding is complete, we have delivered successful solutions to some of the biggest names in insurance, and the team continues to expand to meet ever-growing demand. We are also proud to have been shortlisted for some of the top industry awards. Here's a brief update on the key events of 2021 so far, and on what's to come in the second half of the year.
Customers
Sprout.ai works alongside many of the top insurance businesses in the world, and our software solutions are making a real difference, not only to our clients but also to the thousands of customers they serve. The overwhelming success of the Automated Policy Checking AI solution trialled at Zurich has been a particular high point, and gives them the ability to settle claims within 24 hours.
It's a tangible result that resonates with anyone. After all, every single one of us has to make an insurance claim from time to time, and it's usually as a result of some sort of stressful incident. Getting it all out of the way faster can only be good news.
We have also delivered a successful health solution to a top tier global insurer in South America. This demonstrates that our OCR solution is as effective in the field as it was in trials. After all, it's one thing seeing it work under test conditions, but this proved efficient in reading and detecting text in Spanish across several different types of documents that are specific to Chile's health sector. If it can read a doctor's handwriting, we can safely say we've created something special!
Funding
The Series A funding round is now complete, and it raised £8 million. The funds will prove invaluable in allowing Sprout.ai to continue to grow, recruiting the very best data scientists to become part of the team. It also means we can invest in the necessary infrastructure to deliver bigger and better solutions to the insurance industry, and thereby to millions of people.
Team
Sprout.ai has certainly changed a great deal since the rebranding last April, and we are now a much larger family! Just in the last three months, we have welcomed six new joiners on board, so let's hear briefly from some of them. We promise, no coercion or mystery bonuses were used to influence their feedback!
Paige Smith, Executive Assistant to the CEO: In the few months that I have been here, it's been hard not to get excited about what we are building. Creating software that has a meaningful impact on people's lives is what joins the team together, giving us a shared mission that is very clear. The enthusiasm from the leadership team is contagious, and I feel very much a part of a team that has huge growth plans and a very exciting future ahead.
Data Scientist Vassily Baranov: I joined Sprout.ai to be part of strong team in a rapidly growing company where I could grow personally. After these first few months, everything has far exceeded my expectations. The startup atmosphere is awesome, the team level is outstanding and the tasks are challenging. I'm looking forward to seeing what comes next on this exciting journey.
Data Scientist Thanh Hau: Joining Sprout.ai has been a great opportunity. We can apply the most advanced AI technologies to real-world problems and by communicating directly with insurance companies, we have the opportunity to better understand the challenges they are facing and to come up with the best solutions together.
Data Scientist Pedro Barnardo: Since joining Sprout.ai, just three months ago, I got a chance to see how AI can revolutionize the insurance industry and deliver real value to the end customer. It has been very exciting to work with all the great minds in Sprout.ai and I'm looking forward to seeing the team grow as we tackle new challenges.
Lead Data Engineer Joseph Francis: I have just finished my first month at Sprout.ai and I love how much the company has data at its core. The things that Sprout.ai does with Artificial Intelligence and Machine Learning are like nothing I have seen in any other company. It's really exciting to see the business problems that this technology can solve in the insurance industry.
Every area of the business is continuing to grow at Sprout.ai, including product, delivery, sales, tech, operations, and support functions. You can look here to browse the latest career opportunities or to submit your CV.
It's not all work, work, work at Sprout.ai. Meeting up is still a challenge at the moment for obvious reasons, but we've been able to share some fantastic virtual team events. These included a magician who was almost as spellbinding as our OCR software, and a comedian joining to end our weeks on a high!
It's also great that from June, the London-based team members have been able to reunite back in the office for a few days each week. Having the flexibility to work remotely is a great thing, and is part of modern working life – but it's a comfort to know we can still fit into those work clothes when we have to!
Awards
Success brings its own rewards, and as we mentioned earlier, the results generated by our software can make life easier for all of us, and our families, at the most difficult times. But we're only human, and of course it is special to be recognized by our industry peers.
Sprout.ai was a finalist for The Europas in the Hottest AI Insurtech category and is shortlisted for the Digital Insurance Innovation Award at The Business Insurance Awards with Zurich. We are also delighted to report that we were listed as number 12/66 in the TechRound SaaS awards.
We look forward to further growth and success in the second half of 2021 – and also to plenty more magic! Keep an eye on our news page for further updates.
Book a demo with an expert in AI for insurers.
Discover how our end-to-end claims automation can boost customer experience and improve operational efficiency.
Let`s Talk